---
Are you ready to accept the challenge?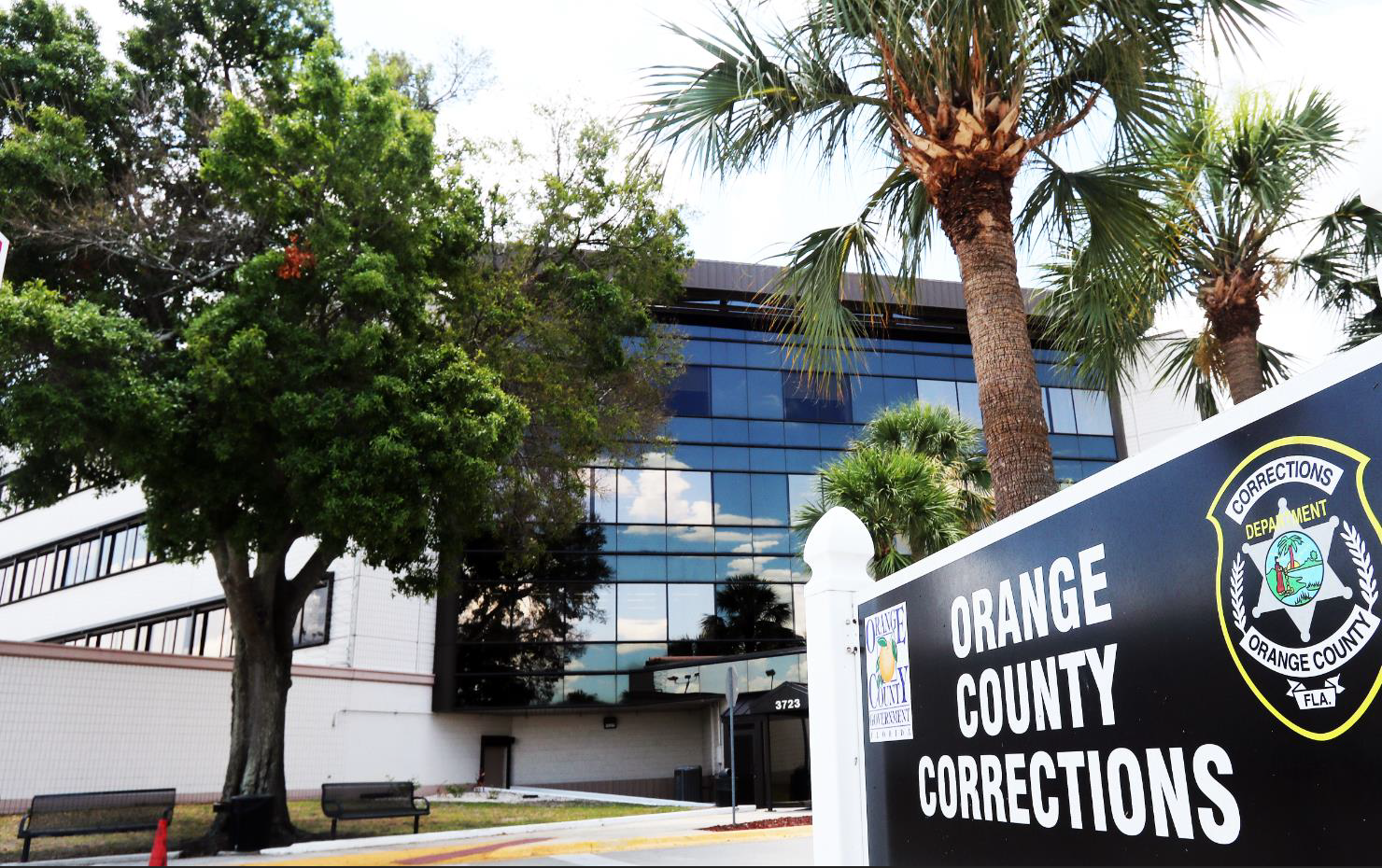 From what was once a handful of cells, the Orange County Corrections Department (OCCD) has become one of the largest county detention facilities in the nation.

Situated on a 76-acre secure compound in Orlando, Florida, OCCD has the capacity to detain up to 4,100 inmates on any given day.

Strong working relationships between the 1,700 certified and civilian staff are valued at OCCD, as is the rich history and proud tradition passed down through the many generations of employees.

There is a strong sense of team here at the Orange County Corrections Department. Whether an individual is assigned to a unit within the Community Corrections and Inmate Programs Division, the Inmate Administrative Division, or to one of the agency's specialty units, personnel work together to carry out the mission of OCCD.


Orange County Government offers an array of benefits. Eligibility for yourself and your family begins on the first day of employment. Here is a list of some of the benefits you will receive:
Medical
Dental
Vision
Life Insurance
Disability Insurance
Employee Assistance Program (EAP)
Florida Retirement System (FRS)
Personal Leave accrual and Holidays
Deferred Compensation
Educational Assistance
Public Service Loan Forgiveness (PSLF) Program
Gym Memberships
Participate in Countywide Wellness Events
And much more...

For a complete list of benefits, please visit the Orange County Government Employee Benefits page.
CERTIFIED CORRECTIONAL OFFICER

Ready for something new and exciting? The Orange County Corrections Department is seeking qualified candidates for our certified, sworn positions. We are an Equal Opportunity Employer that is proud of its diverse workforce that represents our local community. We use the best training and continually introduce new technology to ensure best practices are used. Our staff are our most valuable resource and we look forward to you joining our team.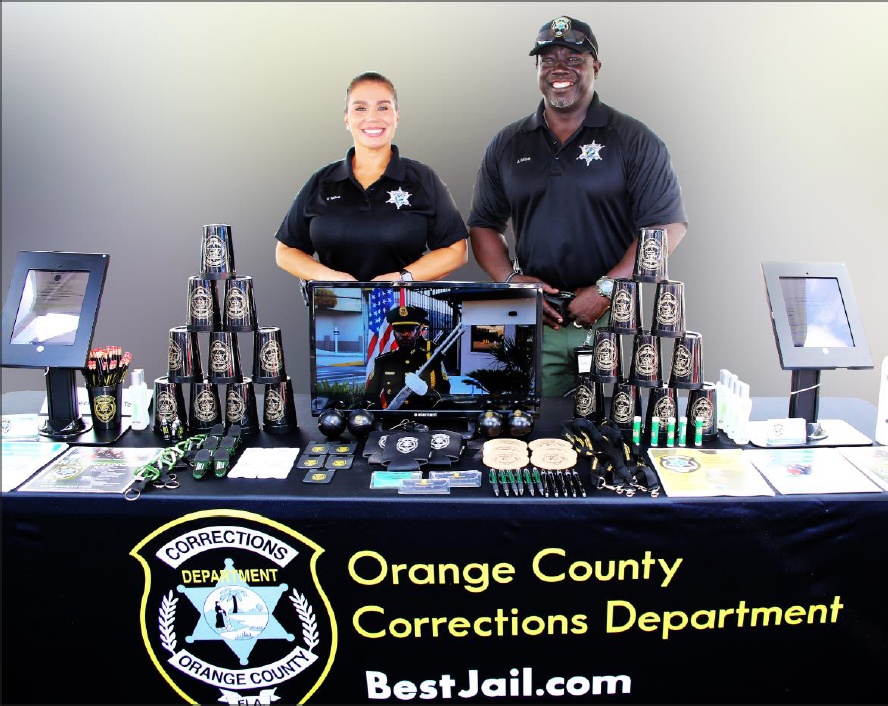 MINIMUM REQUIREMENTS for CERTIFIED CORRECTIONAL OFFICER:
Must possess a Florida certification as a correctional officer in accordance with Florida Statute 943.13. If you do not have a current Florida certification, refer to the Non-Certified Correctional Officer Trainee section for additional information.
High school graduate or equivalent
At least 19 years of age
A United States citizen
Must not have been convicted of a felony
Must not have been convicted of a misdemeanor involving moral turpitude
No marijuana use within the last year. No other drug use within the last three years
Must be able to work all shifts, weekends and holidays
Must possess and maintain a valid Florida Driver's License within 30 days of hire
Must be in good physical condition

DUTIES & RESPONSIBILITIES

As a correctional officer, your primary duty is to supervise inmates in order to prevent altercations, intimidation, undesirable or illegal acts and intercede when necessary to ensure the safety of the facility, other employees and the inmates. Proper documentation and record keeping is essential to the success in this position. You will be required to generate reports based on your recollection of an incident, conduct accurate headcounts and be aware of the location of each inmate under your direct supervision.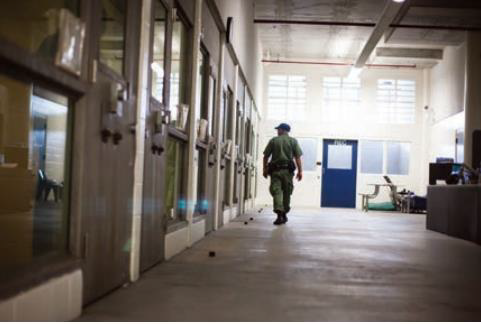 Correctional officers are expected to conduct thorough routine and surprise searches of the area, security inspections and adhere to all security procedures. The rights of the inmates will be observed and treated according to departmental policy. All correctional staff must acquire knowledge of emergency plans and procedures and maintain emergency equipment.

Once hired as a Correctional Officer, the starting pay will be $22.53 per hour or $50,016 annually. Most correctional officers exceed this annual amount due to the opportunities to work extra duty. Eligible individuals may receive an additional $1,000 sign-on bonus. Years of experience will be taken into consideration and determined based on the collective bargaining agreement.
There are additional opportunities for additional pay to include shift differential and educational incentives. Speak with a recruiter for more information.

As a certified correctional officer, you will have opportunities to enhance your career by joining one of our specialized teams. Each of our specialized teams is highly trained to ensure proficiency in their area. Examples of our specialized teams include:


Special Response Team (SRT)
Honor Guard Unit
Security Intelligence Unit (SIU)
K-9 Unit
Transportation Team
Hospital Security Team
Perimeter Security Team
Fire, Safety, Security and Sanitation Team
Polices and Accreditation Unit
Logistics
Emergency Management
Recruitment Team
Booking and Release Center Court Team
Downtown Courthouse Team
Medical Security
Internal Affairs Unit
Classification
Training and Staff Development
Critical Incident Stress Management (CISM) Team


PART-TIME CERTIFIED CORRECTIONAL OFFICER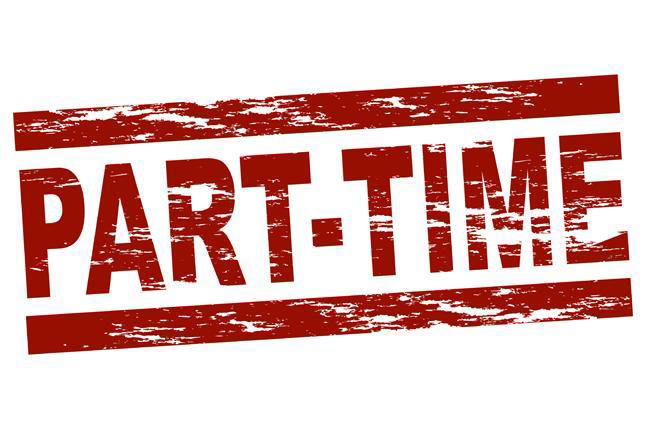 Are you a retired correctional officer in the State of Florida with a passion for rejoining the corrections field but you do not want to work full time hours? Does the idea of working part time with full medical benefits sound appealing? Give us a minimum of 20 hours of your time per week and you will be eligible for all Orange County medical, dental and vision benefits beginning on day one of employment. Salary range is $22.53-$23.91 per hour and will be determined by years of experience and based on the collective bargaining agreement.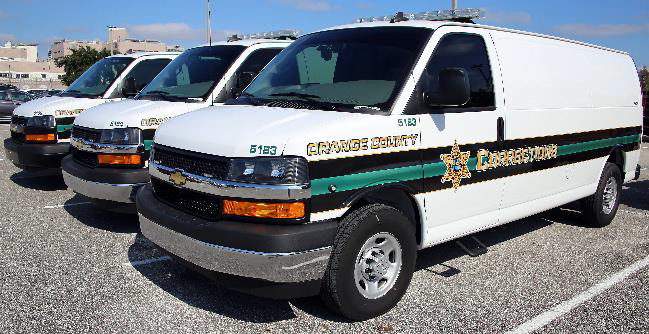 Part-Time is not only for retirees. We are looking for anyone who has a valid corrections officer certification. If you want to rejoin the profession but on a part-time basis with benefits, look no further. We want you to join our team.
As you consider returning to the Corrections Profession, please review the following information:

If you have been out of the profession for less than four years, you will attend a 32-hour mandatory training course at Orange County Corrections to renew your certification. In this course you will certify with department firearms, CPR/First Aid, Defensive Tactics and other relevant training courses. You will then complete a modified Field Training Officer program to familiarize yourself with current departmental policies and procedures.

If you have been out of the profession for more than four years but less than eight, you will be required to attend a 40-hour training course conducted off-site at an approved Criminal Justice Facility. Afterwards, you must successfully pass the Florida State Officer Certification Exam. Contact a Recruiter for additional information.

Individuals who have been out of the profession for greater than eight years must attend the full Corrections Academy just like a new recruit.


NON-CERTIFIED CORRECTIONAL OFFICER TRAINEE

Interested in becoming a correctional officer but not sure where to begin? If you have not obtained certification in the State of Florida, the Orange County Corrections Department encourages you to apply for our Non-Certified Correctional Officer Trainee position. Candidates interested in this position are expected to successfully complete 420 hours (approximately 12 weeks) at an approved academy and pass the state exam. Academy classes are scheduled Monday-Thursday from 6 a.m. to 5 p.m.
When hired as a trainee, the Orange County Corrections Department will sponsor you to attend the Basic Correctional Officer Academy at Valencia College School of Public Safety and pay all tuition expenses.
As an employee you will receive an hourly wage of $21.40 and have access to full array of benefits. Upon successful completion of the academy and certified by the State of Florida, your hourly wage will increase to $22.53 per hour. You will then begin a structured eight-week on-the-job Field Training program where you will learn the operational duties of a correctional officer at the Orange County Corrections Department.
As a recruit of Valencia College School of Public Safety, you will be expected to maintain a certain level of physical fitness to participate in physical training and defensive tactics mandated by the Florida Department of Law Enforcement and the Criminal Justice Standards and Training Commission.
At minimum, you should meet the following fitness standards:
Complete a 1.5 mile run in 18 minutes or less. Walking is not permitted
Complete at least 15 push-ups in one minute
Complete at least 25 sit-ups in one minute
Physical fitness at the academy is intense and you must be ready on the first day!
Learn more about the Corrections Academy at the Valencia College School of Public Safety.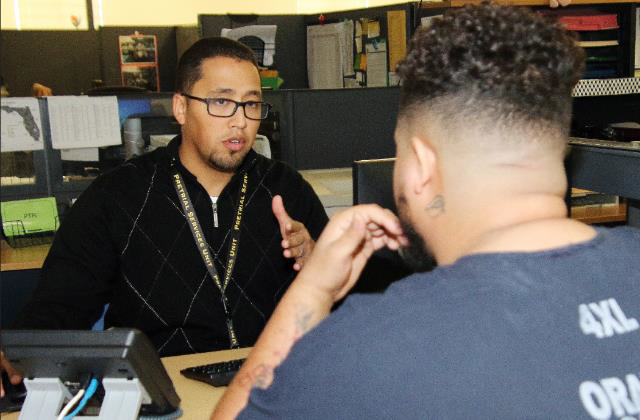 Do you have an interest working inside the jail but not as a certified correctional officer? The Orange County Corrections Department is seeking qualified candidates for many of our Civilian positions. We strongly value the contributions and supporting roles provided by our civilian staff and encourage you to join. Most civilian positions have minimum inmate contact but when interactions must occur, they do so under the direct supervision of a correctional officer.
Many opportunities exist for those who choose the civilian path to include:
Intake and Release Specialist
Intake and Release Officer
Community Corrections Officer
Assistant Shift and Shift Supervisor
Medical Professionals
Detention Service Technician
Fiscal Clerks
Property Room Clerks
Mail Room Clerks
Corrections Aides
Various clerical positions
And many more...
Most civilian positions have opportunities for internal lateral transfers and promotions. Civilian staff have the opportunity to transition to a certified role and enter the Basic Corrections Academy to become a certified correctional officer. Whatever career path you decide, your role will have an impact on the continued success of the department.

DETENTION SERVICE TECHNICIAN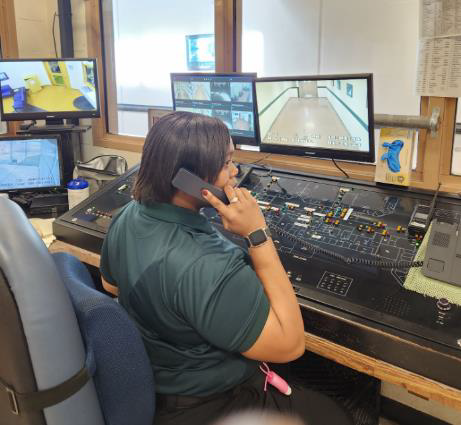 The Orange County Corrections Department is seeking highly motivated candidates to fill the position of Detention Service Technician (DST).
This is an administrative and technical position
located in any one of the many secure Control Rooms within the jail. This position does not require you to supervise inmates directly but provides support to the correctional officers to carry out their everyday job functions.
As a DST, you will utilize surveillance video or direct line of sight to observe inmate behaviors in cells, corridors and courtrooms. You will assist certified personnel in controlling access to the facility by operating security doors while maintaining visual and audio contact.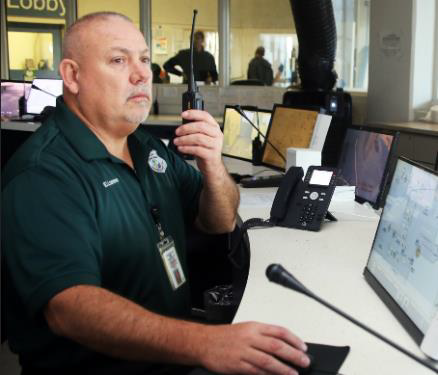 Proper documentation and record keeping is essential to the success in this position. Inventory of tools and equipment must be maintained at all times to ensure the safety of the employees and inmates. You will be responsible for answering phone calls and coordinating the activities of outside services such as Fire Rescue, Facilities Maintenance or third-party contracted vendors.
DSTs are a vital part of our criminal justice system by maintaining a safe and secure operations within the Orange County Corrections Department.

INTAKE & RELEASE SPECIALIST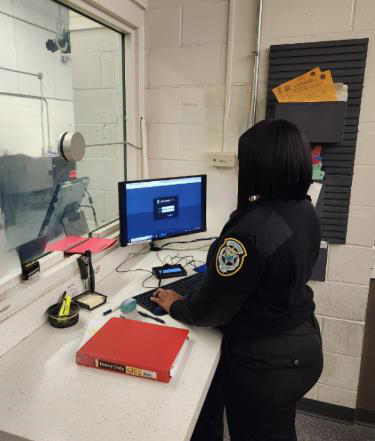 The Orange County Corrections Department is actively seeking talented individuals to fill the role of Intake and Release Specialist. This is an administrative job role with the primary work area located in the Booking and Release Center located within the secured compound of the jail. This position does not require you to directly supervise inmates but depending on your assignment, you may have to interact with inmates during the intake and release processes. Communication, the ability to maintain confidentiality, attention to detail, and exhibiting professionalism are essential to be successful in this position.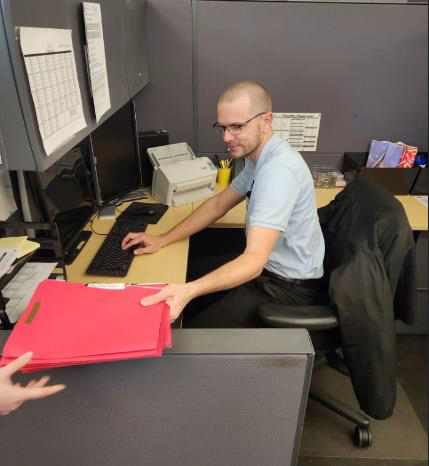 As an Intake and Release Specialist, you may be assigned to areas such as the Pretrial Services Unit, Judicial Processing Team, Inmate Records Management, Inmate Affairs Unit, Law Library Services, or Inmate Classification. No matter which unit you are assigned, you will provide a valuable service to those who are incarcerated and the public we serve.
Some duties and roles expected are receiving law enforcement arrest affidavits and other related documents, reviewing arrest affidavits and court documents for accuracy and completeness, updating inmate information in the inmate management database, sending teletypes, obtaining and reviewing criminal justice history, processing bonds, reviewing and processing court documentation and processing inmates for release.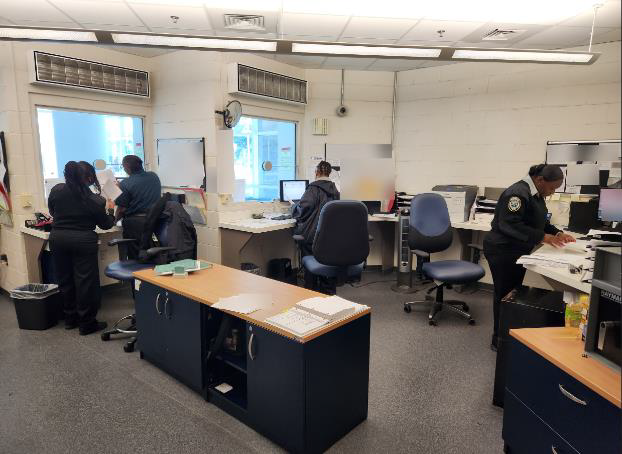 Some units, such as Inmate Records Management (IRM) and Pretrial Services, operate 24 hours a day, 7 days a week. IRM provides booking and release functions for all inmates incarcerated in Orange County. The Judicial Processing Team is responsible for maintaining court status information on all inmates. The teams work closely with the judiciary and the Clerk of the Court to ensure accurate and timely court appearance scheduling for inmates as well as the records generated from such appearances. IRM is the public venue for obtaining information on inmates such as bond amounts, current charges, and visitation days and times.
As part of the Intake and Release Specialist team, you will provide valuable and essential services to the continued success of the Orange County Corrections Department, its staff, and those who are incarcerated within.

CORRECTIONS HEALTH SERVICES
Our health care professionals have the talent, skill, and experience to provide comprehensive care to the inmates within our custody. Whether you are beginning a career or simply looking for something different, providing health care to those who are incarcerated can be fulfilling and an experience of a lifetime. Many services needed for the inmates in our care are provided on site and are available 24-hours a day. Most services are considered routine but some situations will require emergency response in which life saving measures may be required. In these cases, advanced care is needed and inmates are transported to the hospital by Emergency Services.
We have a variety of roles for you to serve such as:
Administrative Assistant
Advanced Practice Registered Nurse
Certified Nursing Assistant
Dental Assistant
Dentist
Licensed Mental Health Specialist
Licensed Practical Nurse
Medical Assistant
Medical Clerk
Medical Director
Medical Unit Secretary
Nurse Case Manager
Nurse Practitioner
Pharmacist
Registered Nurse
---